Oh yeah, nothing makes me happier than sharing creepy tales for you my great fans of audio drama.  I was recently invited to post over on SFFAudio, and figured I should share these ghoulish delights with my loyal listeners as well!
I ALWAYS have trouble finding enough time to feature all of the delightfully terrible audio tales that are out there for Halloween in the regular 'pod, here are a few which deserve your ears:
Zombies!!! Take Resident Evil and mix it with the marines from Aliens and you wind up with something like the outcome of this zombie podcast.

A group of foul-mouthed marines ends up locked up in an apartment building with a scattered batch of survivors after a zombie holocaust breaks loose with little notice (or explanation).

This one is well-produced, action-packed, and is as much about an odd group of people trying to survive together as it is about the roving droves of hungry undead. Not to be missed.

2 – Wormwood

Wormwood made it into my previous Five Free Favourites and it makes it again. Though not strictly "horror," this brilliantly twisted thriller serial has ample spooks to make it a priority on any horror fan's iPod.

If you haven't been following, you have two full seasons to catch up on, tons of bonus content, and a third season coming up which is sure to send you to an early grave.

3 – The Grist Mill

Okay, the Grist Mill isn't free but two episodes of their work are available for free download on Radio Drama Revival, so that sort of counts.

The one you should under no circumstances miss is God of the Razor. AM/FM Theater rightfully won the Ogle Award for this fine adaptation of Joe Lansdale's classic horror short. There's a reason you should stay out of basements in the South…

Also, Jeff Adams' The Estates is an extremely awesome innovation to the spooky story meme – Stepford Wives meets The Shining. Thank you, Jeff.

The Cape Cod Radio Mystery Theater has been at it for a while, and "The Buoy" is perhaps the crowning gem of their productions.

This is a good classic New England ghost story, which packs an even stronger punch because of its eerie parallels to the classic Poe tale, "The Pit and the Pendulum." A man "from away" winds up tied to a buoy as the tide comes in, and recounts his terrifying tale.

As the water gets higher, and no escape is in site, the real terror sets in…

The Dunesteef Audio Fiction Magazine aired this back in March, but it is much better fitting for Halloween. Breaking the trend from the rest on the list, this is not strictly audio drama, but hosts Rish Outfield and Big Anklevich did a splendid job bringing the text to live. Writer Kevin Anderson also has a script in the mix for my upcoming Halloween Live Radio Drama.
BONUS! ZBS Comes out With Sticks… For Fricken' Free!
Remember Chris Dueker's review of Karl Edward Wagner's Sticks? It's a gore-ious take on a short story delivered to you with the eerie splendor of binaural sound. That means it is perfect for your iPod or other mp3 player of choice.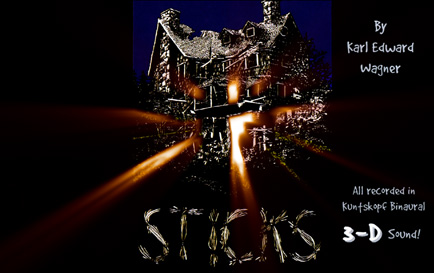 [audio:https://www.radiodramarevival.com/mp3/Sticks-Halloween.mp3]
Karl Edward Wagner's Sticks by ZBS
Enjoy!!!
Podcast: Play in new window | Download | Embed